This month in The Archer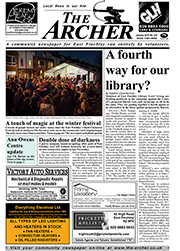 Members of East Finchley Library Users' Group are thinking positively in the campaign against the Council's proposed library cuts, and encourage us all to do the same. They are putting together a fourth option as an alternative to the three options proposed by Barnet.
Do you have a story?
Send your stories, letters and photos to us at:
or write to:
The Archer
PO Box 3699
London N2 2DE
East Finchley's community newspaper
The Archer is a totally independent non-political and non-religious community-run newspaper, based in East Finchley, London, England. It is delivered free every month to 9,500 households in and around London N2.
The paper is written, edited, designed, produced and delivered entirely by volunteer members of the community.
Volunteers wanted
We are always on the lookout for new members to write, research, edit, take photos, deliver or simply to come up with new ideas.
Do you have skills which could be useful to The Archer?
Delivery rounds
Can you spare 30-45 minutes a month? We currently urgently require volunteers to deliver papers in these areas:
Blandford Close / Cornwood Close / Greenhalgh Walk / Lyttleton Road
The Grange - two rounds available
Manor Court, Aylmer Road/Mansfield Heights
If none of these rounds is close to you, please get in touch anyway, we may have other rounds available.
Please contact us if you can help.